UB School of Law Mobility Print: Windows
Mobility Print through Papercut, is a service that allows you to add a Law School printer directly to your personal Windows computer. This new service acts like adding a local printer onto your computer and therefor uses your own computer's print dialog box to modify the printer options. This means that all file types are supported and all job configurations are selectable: page range, copies, orientation, simplex/duplex, page per sheet, paper source, etc. Because this a direct print queue the performance of this service should be as fast as if you were sitting at a workstation.
To begin, simply visit http://mobilityprint.law.buffalo.edu:9163/setup
Once there, select the Download link to get the Mobility Print Setup executable.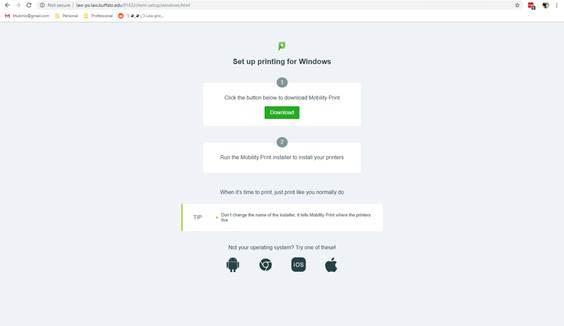 Once downloaded, run the executable and follow the onscreen instructions. Windows users will see a selection of printers, select the printer or printers that apply to you and click Next. Please make sure to only select the printers you should have access to. Access to printers is based on Active Directory Student Organization groups, if you cannot connect to a printer, contact your organization head to request access from Law IT by e-mail.
Printer names follow the syntax: "Organization"_"Room#"-"Make"-"Model".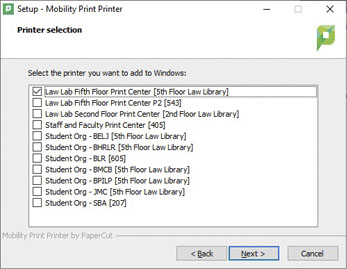 When prompted to login, enter you UBIT credentials. Click Next. Click Finish.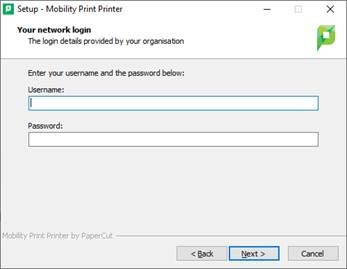 When printing a document from your computer, the printer will show up in your native print dialogue box as an option. Please make sure you enter your proper UBIT credentials when releasing your jobs.